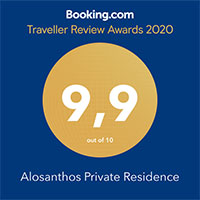 Absolutely fabulous. Host was extremely helpful. As close to Paradise as it gets!
Absolutely Breathtaking views! Best location! Fabulous interior! Amazing experience!
Brigitte (Booking)

Excellent!
The location is amazing in Castro of Chora and the balcony has a breathtaking view of the monastery and the cliffs. It is very quiet and decorated with a lot of taste. Tilla is a great host who also speaks fluent English and French. She also took care of the transfer to and from the port. Perfect for a family with kids as the second bedroom is a bit small for adults.
Noname (Booking)

Άριστο
Εξαιρετικό σπίτι σε μοναδική τοποθεσία (οι φωτογραφίες το αδικούν), πολύ καλά παιδιά οι ιδιοκτήτες, εξαιρετική υποδοχή, πολύ καλή η σχέση ποιότητας - τιμής. Το συνιστούμε ανεπιφύλακτα!!
Αργύριος (Booking)