Breathtaking views– Unique experience
Having the Aegean Sea stretching before you.
Inside the medieval Kastro
The Alosanthos residence is built in the heart of the medieval settlement of the Chora, both at the centre of the Folegandros Kastro (lit. castle) and uniquely situated on its steepest section.
The history of the house
The 13th century AD sees the construction of the Folegandros Kastro (lit. castle). It was a defence-purpose fortified settlement aiming to protect inhabitants from violent pirate raids. The house has been owned by our family for more than 150 years.
Meticulously designed
A space of elegance incorporating the simplicity of traditional Cycladic architecture and contemporary comfort and functionality.
On the edge of the cliff
Built 200 meters over the sea, the Alosanthos is literally mounted on the edge of a steep rock. It is the rock on which the Folegandros Kastro, the medieval settlement of the Chora, greatly stands for centuries. The house has views to Paros, Antiparos and Sifnos when facing to the North, to Kimolos and Milos to the West while to the Εast there is view to the imposing rock on which the magnificent Panaghia Church stands being both a cultural heritage monument and the island's landmark.
STAYING AT ALOSANTHOS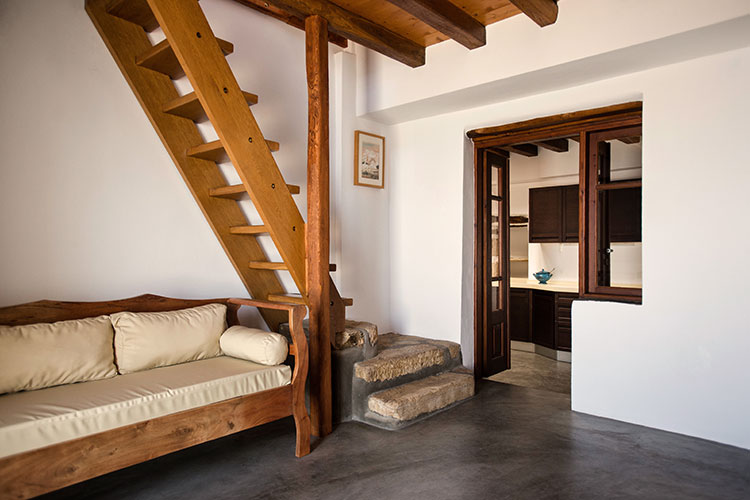 Operating Season
The Alosanthos house is an independent two-level traditional residence. It can host up to four guests and is ideal for families. It is open from May to October (for November to April please contact us).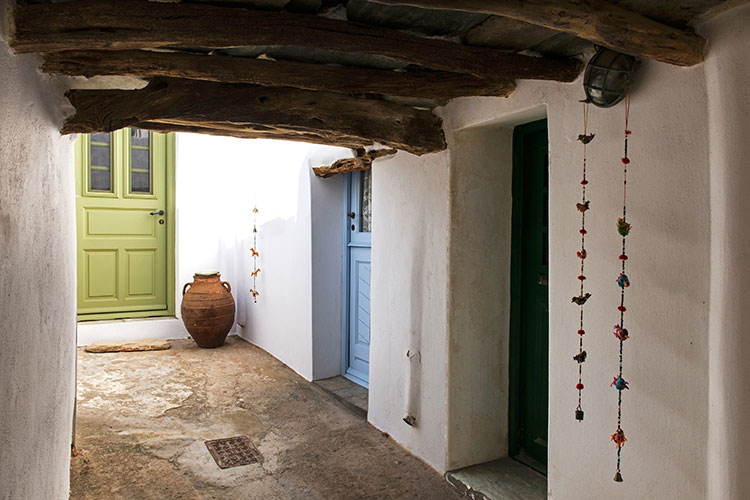 Facts about the house
The Alosanthos is located in the oldest section of the Chora, in the Kastro's historic neighborhood. This is a strictly residential area where except for houses there are no bars, restaurants or any other establishments. Therefore, respecting quiet hours is a condition for staying in the Alosanthos. Another important aspect to be considered is that given the distinctive features of Cycladic architecture where properties, windows and patios tend to embrace each other, maintaining the privacy and the overall calm of the neighbourhood is essential.
The house is not suitable for people with mobility difficulties and other physical impairments. Children shall be supervised by an adult, especially when at the exterior of the house (veranda). The terrace (upper veranda) shouldn't be used by any guest.
Water consumption. Since there is no running water in Folegandros and since the reserves are limited anyway (especially during peak months) please be considerate regarding its use.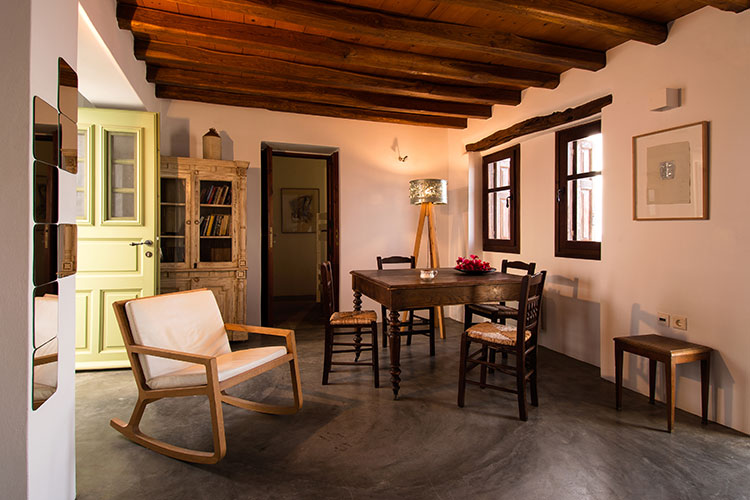 Availability - Reservations
Please fill in the reservation request form. You will be notified within 36 hours.